To make it easier for everyone to find the proper information, perhaps it's a good idea to gather all the FREE reviews and comments here under the same thread? Here is my take on it:
Woaaah, this is such an amazing time to be a telemark skier! SO MANY exciting things going on in the free-heel world! As you can see, I'm having a hard time trying to conceal my excitement about the Alfa FREE too! According to Alfa, the FREE A/P/S is an "
Innovative boot with BOA, integrated ankle support and the new Xplore system for optimal ski handling.
" Once again, when I received the box in the mail, I couldn't believe there was a pair of Alfa boots inside. The box was SO light, I thought they made a mistake and sent me some other stuff. I immediately put the made-in-Italy FREE A/P/S boots on the scale: 845g each! Incredible!!!
"New developed BC boot for the Xplore System with increased comfort, stability and ski handling. ALFA's integrated ankle support system, AISS, improves the stability and control in demanding terrains. The Xplore binding system provides great stability in downhills and allows a natural skiing technique with a flex in the sole. Winter insulated lining with GORE-TEX and thermal midsole keeps the feet warm and comfortable in all conditions. The upper material is treated to repel snow and dirt and the Boa Closing System simplifies the step in and allows for individual fit. The boots are also equiped with Recco Rescue System if the accident should happen. The fit in the shoes is spacious so that you have room for thick socks and get good blood circulation. "
I was skeptical when I read earlier reviews saying that the FREE felt like a plastic boot. Well, this is exactly how I felt the first time I wore them! It's hard to explain. They really have the stiffness of a plastic boot, but with the feeling of good old leathers. Only, they are super-freaking-light!!! Definitely something totally new here again! (No, they do NOT feel like SuperComps at all!) It feels almost unreal to stand inside such a stiff boot while at the same time having the feeling that you are only wearing a pair of socks. Wow, wow and WOW!!!! Super impressed once again! Even when walking around, it almost feels like if you were walking in a plastic ski boot... Loosening one of the Boa knobs then puts you into walk mode!
Yes, I had some doubts about the whole BOA thing too. But let me clear this right here, it's brilliant! It's just SUPER easy to tighten and/or loosen. I was about to say that the lacing system is great, but it's even better: there is no lacing system! It's the first XCD boot that you do NOT need to lace! Just turn the dials and you're ready to go in half a second. Half a second to get the perfect fit, and POUF!, half a second to release the tension and get out of the boots instantly. Awesome, awesome, awesome!!! When I first put the FREE boots on, I just couldn't help myself: tightening, releasing, tightening, releasing, tightening, releasing... It's really fantastic to have the Boa lacing system on a pair of ski boots. (As a bonus, every time I turn the knobs on the snow fields, I feel like dialing frequencies coming from outer space!) And oh, I'm not sure what kind of material the Boa fit system is made of... It wasn't mentioned before, but those BEAUTIFUL big red knobs seem to act like chick magnets on the trails...
It feels so futuristic to turn some dials and hear the clicks instead of tying shoelaces. It actually feels really, really good! (I had the same feeling when I got my first pair of rear-entry boots in the early 80's, with the dial in the back and another dial knob on the side for width adjustment...) Ok this is it. THIS is the future, we are living in the future, right now! Remember
Marty's new self-lacing shoes
in Back to the Future II? This is pretty much how the Alfa Free feels! Really, "
lacing
" the Alfa Free is just awesome. I really wish we could see the Boa system integrated into other boots as well.
The soles are super stiff. Like freaking stiff. And despite of this, it somehow flexes quite properly like it should at the bellow. A very important point here is WHERE it flexes. Very differently than on the
Alaska XP
. And also quite different from NNN-BC and 75mm. While the flex point on the Alaska XP has been pushed back a little, the flex point on the Alfa FREE has been moved forward. (See pictures). A totally different concept and design here! Better? Worse? No, just different beasts to meet your own personal preferences. The sole is even stiffer than the Alaska XP sole. Remember how I said that the Alaska XP required a huge amount of force to crush the ball of foot on the ski? Well, it's even harder on the Alfa FREE. The fact that the flex point on the Free is moved forward, and because of its mega-stiffness, it's pretty easy to get that tippy toes syndrome and feeling. And you sure will get it on your first descents. It does require some acclimatization from any skier new to the XPLORE system, especially with the Alfa FREE and its level of stiffness.
With a different flex point than the Alaska XP, it sure does not ski the same, and it doesn't turn the same. You will have to make slight adjustments to your new XPLORE ski technique if you are using both boots. I had no problem at all adapting to both flex points and switching from one to the other. But you might need a few days to adapt and understand the DNA of each of your new XPLORE boots. Once your master this Rottefella inverted 2-pin system, which I admit is something totally different and which took me sometime to fully grasp (something which some last year's reviewers didn't get at all), it's easy to understand its real potential and mostly to appreciate the differences between the various XP boots on the market. Again, it does take some time to understand what can be done with each tool and how to get there.
Did someone ask for support? Because Alfa's AISS™ ankle support is really, really sturdy! We are talking about extreme class boots support here. I have never seen such a stiff leather boot since the extreme class craze in the 80's. Only this time, at a super light weight and much more comfortable than any Asolo Extremes or Merrell SuperComps! Lateral control and edging couldn't be better unless you switch to the T4/Excursion plastic class. Amazing, truly amazing!
Of course, a sturdy boot with that much ankle support and such a stiff upper cuff will never reach the level of comfort of the Alaska XP or the Alfa Guard. And that is quite normal. One should not expect to have a super stiff boot that feels like a pair of old slippers. The FREE is almost like a plastic boot with an outer leather lining. This is pretty much what the AISS thing is. It's brilliant, it really is! But it also means that the general feeling of the ski experience is also tending towards the plastic boot feeling. You all know how I much I hate the robotic plastic boot feeling. Well, honestly, the Alfa FREE is a very, very nice compromise. The best compromise we can get! Almost the same level of control of a plastic boot, with a feeling really not so light-years-away from your old pair of leathers. That said, the FREE is surprisingly comfortable for its class. In fact, I could say that despite its stiffness, it's probably the most comfortable of all the extreme class boots so far. And with such great support, it also makes a VERY nice skating boot, no matter if you're skiing groomers or open fields, or even if you're skating with Nordic blades. Without a doubt my new all-time favorite skating boot!
For all of you chart junkies out there, here is one particularly relevant. It seems quite simple at first sight, but there is actually A LOT of technical information packed in there. It took me quite some time to come up with all the details and to objectively analyze each boot, but I think it makes a great guide to evaluate what you need at a glance. I didn't add a "
warmth
" row because that would be hard to fairly compare and most of these boots have quite similar insulation. Lateral control = edging and steering power. Hiking = walking, boot packing, everything that doesn't imply actual skiing with the boot. And feeling is... Well, you know. It's the feeeeel man. The actual level of blissful sensations that run through your whole body when you go downhill. The actual level of dopamine and adrenaline running in your blood and up to your brain. A number indicating how freely the telemark quintessence embedded in every snowflake is able to run through your boots and be transferred from the skis directly to your spine. In other words, it means the essence of telemark... The spirit of telemark.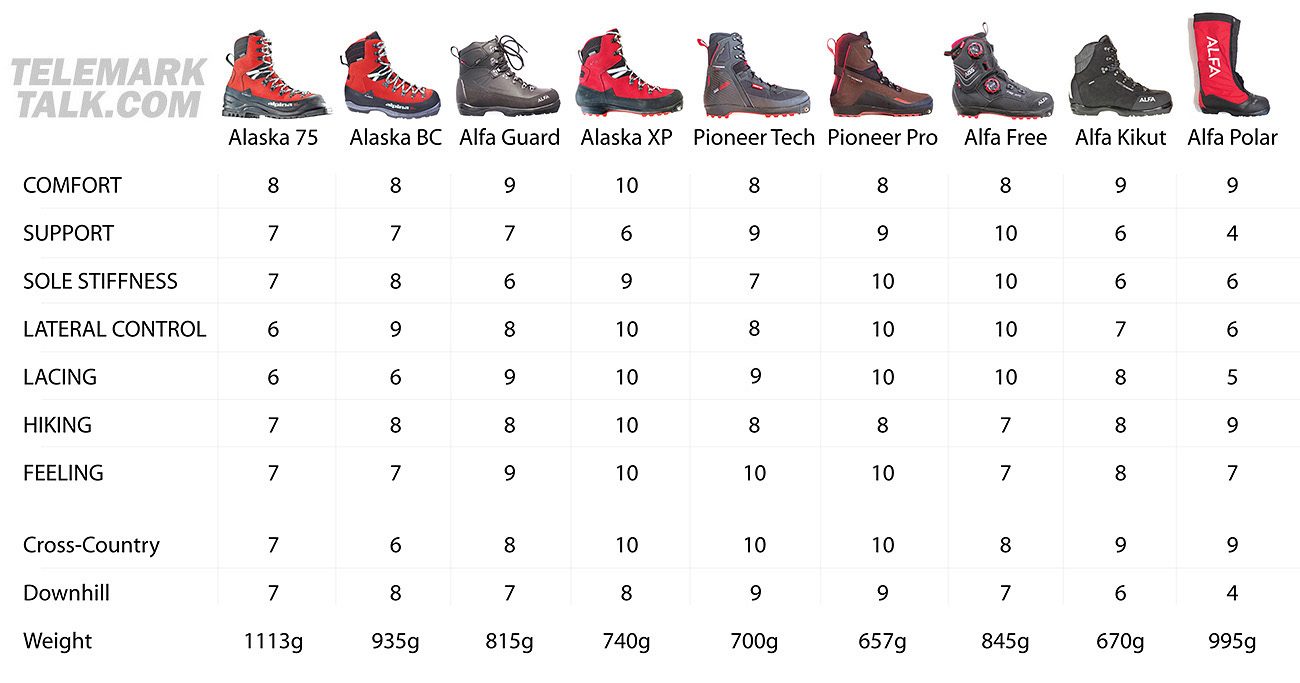 Once again, Alfa delivered another masterpiece of boot design. They pushed the XPLORE system to the limits with the avant-gardist FREE APS boot. A perfect blend of traditional Norwegian shoemaking mixed with modern design and futuristic features like the Boa fit system and the Recco avalanche rescue technology. A HUGE improvement in support and lateral control over any other NNN-BC or 75mm leather boot on the market. Whether it's for nordic skiing, skating, telemark or cross-country downhill, the FREE A/P/S offers more power than you will ever need. Much more comfortable than your favorite extreme class XCD boot, and most importantly, probably more than 50% lighter! Never before in the history of skiing have nordic and telemark skiers been able to have that much control in a leather boot while feeling so light as the same time. Hats off to you Alfa for coming up with such a fantastic and advanced piece of gear! Thank you SO MUCH!
FREE yourself of everything. Turn the red dials, tune into the power and dance your way downhill!
(For very serious skiers only... and obsessive control freaks!)
Johnny, February 2022
ALFA FREE A/P/S GTX M
845g (43 EU)
€599,00 (680$ USD, 865$ CAD)
UPDATE February 23, 2022
A little update after 2 weeks in a row on the Alfa FREE boots... First of all, I have to admit that I have grown accustomed to the BOA fit system. Or should I say, TOTALLY addicted! I knew it would be cool and fun, but it's a lot more than this. I'm totally sold to the BOA thing. And I can honestly say that I really miss it when I go back to laces. It's just so great to make minor adjustments on location without freezing your hands, this is something that just wasn't possible before. And it's truly AWESOME! I'm afraid I will now NEED Boas on my other boots too. N-E-E-D! I sure will jump on any upcoming boot model available with the red dials. Please Alpina, please!
Second, for all the folks out there judging a boot just by its stiffness, here is a little something for you.
Stiffer
and
More Supportive
does NOT necessarily always mean better downhill performance. And this is a good example. As surprising as it may sound, the Alaska XP seems to be a better downhill tool than the Alfa Free. While it's true that the Free is without a doubt MUCH stiffer, that it offers a lot more leverage and A LOT more ankle support, the reality is that I find the skis much easier to turn with the Alaska XP!
It's interesting to note that the Free is giving a lot more control for skating. It's a lot more fun and more powerful than the Alaska XP for skating. But yes, despite the Free being much more stiff and much more supportive, turning the same pair of skis is much easier with the Alaska XP. This definitely has to do with the flex point, and the flex itself, which is ridiculously stiff. The Free flexes near the toes, while the Alaska XP flexes significantly before that point.
Of course my Alaskas have 3 months of skiing on them, so they are more "broken in" and easier to flex than they were. The Free might need a longer break in period. More of this later... The Free will make you feel very safe in any situation, whether it's steep traverses, very technical touring terrain or ravine territory. Almost as safe as in a 2-buckle plastic boot. In complete control of your movements. But for downhill, turning and controlling the skis, I find it is much easier with the softer Alaska XP. (And more fun too!)
My point here is that both boots are awesome, but a ski boot is A LOT more than just
stiffness
and
support
. There are other factors to consider as well. Going blindly for the one with more ankle support or for the stiffest of the stiffest (like I know a lot of people here are doing) won't necessarily automatically translate into more downhill control in every case. This is something I already mentioned when I reviewed the
Alfa GUARD
over three years ago... (I've been trying to do some education here in the last decade, with very little success...)
Just don't systematically fix your choice of boot by the support factor only. Just food for thought... and the results of real experiments on the snow with the same skis and bindings.
UPDATE March 13, 2022
Stephen

wrote:

↑

Wed Mar 09, 2022 4:22 pm

Maybe I missed it, but how does the Alf Free come out 2 points lower than the Pioneer Pro for "Downhill," when the "Support" "Stiffness" and "Control" numbers are "10" for each boot? That makes the Free equal to the Guard (both 7), which seems very surprising.
Just a few more words here to clarify the situation, and why the Alfa FREE got a 7/10 note for downhill. This place is called "Telemark Talk", a forum dedicated to the telemark turn, also called free-heel skiing, the technique of dropping knees in order to turn. If you take a closer look at the
Free description
, you will notice that there is not a single mention of the word "telemark" on the page. No mentions of turns or dropped knees. According to Alfa, the Free is a
backcountry boot
that
improves the stability and control in demanding terrains
. It's made for
Hilly backcountry skiing.
From that perspective, where telemark turns are not involved, I sure would give the Free 10/10 for "downhill", a perfect note. It's the most stable leather boot I know of.
If you are a backcountry skier and you are skiing downhill alpine-style, the Alfa Free is the best and safest option... If you are only doing half-tele turns, or fake-marks, or that snowplowing-with-one-raised-heel dance (aka here as "arcing"), it's clear that the Free will give you much more control for downhill than any other boots. The free is very stiff, and you can get a lot of control out of it from
driving the cuff instead of the ball of foot
, something you won't get from any other leather boot, not even the Skaget, Guard, Alaska XP or the Pioneer.
The Free is a totally amazing boot. And as much as I'm in love with it, from the TELEMARK perspective, I find that with the basic soft flexor, the Alaska XP and the
Pioneer
are smoother, more fun and more natural for pure traditional telemark turns. The "downhill" rating of each boot on the chart refers to the telemark, XCD skiing perspective, NOT the Alpine-Touring or Cross-Country point of view. Very different. Just saying...
Now the way the Free works is not unlike NTN boots. The sole being quite hard to flatten at the ball of foot, it requires additional help to fully unleash its full power for downhill telemark turns. As I first mentioned
last year
when I first tried the XP, this additional help can come from:
1- a different technique
2- using hard flexors
3- driving the cuff of the boot, which is especially true and useful in the case of the Alfa Free boot
Just like plastic boots, the stiffer the upper cuff is, the easier it is to use it to flex the sole and drive the ski. Some people (Yes, including me
) might argue here that this is not the pure, original 3-pin telemark technique, as it was the case with NTN 15 years ago. But who cares really? Again, there is nothing new here, this is exactly like the stiff plastic NNN-BC boots of the 90's and their white flexors. Only with better boots and a better system this time. The world is moving forward.
And yes, with different flexors, each of the 7 boots reviewed in the chart have totally different characteristics and ratings. The difference is even greater than a boot with and without cables. But the idea here is to keep the comparisons simple and fair.