For all of you chart junkies out there, here is one particularly relevant.
Taken from my review of the
ALFA FREE boot
, I think it's worth reposting here for future reference.
It seems quite simple at first sight, but there is actually A LOT of technical information packed in there. It took me quite some time to come up with all the details and to objectively analyze each boot, but I think it makes a great guide to evaluate what you need at a glance. I didn't add a "warmth" row because that would be hard to fairly compare and most of these boots have quite similar insulation. Lateral control = edging and steering power. Hiking = walking, boot packing, everything that doesn't imply actual skiing with the boot. And feeling is... Well, you know. It's the feeeeel man. The actual level of blissful sensations that run through your whole body when you go downhill. The actual level of dopamine and adrenaline running in your blood and up to your brain. A number indicating how freely the telemark quintessence embedded in every snowflake is able to run through your boots and be transferred from the skis directly to your spine. In other words, it means the essence of telemark... The spirit of telemark.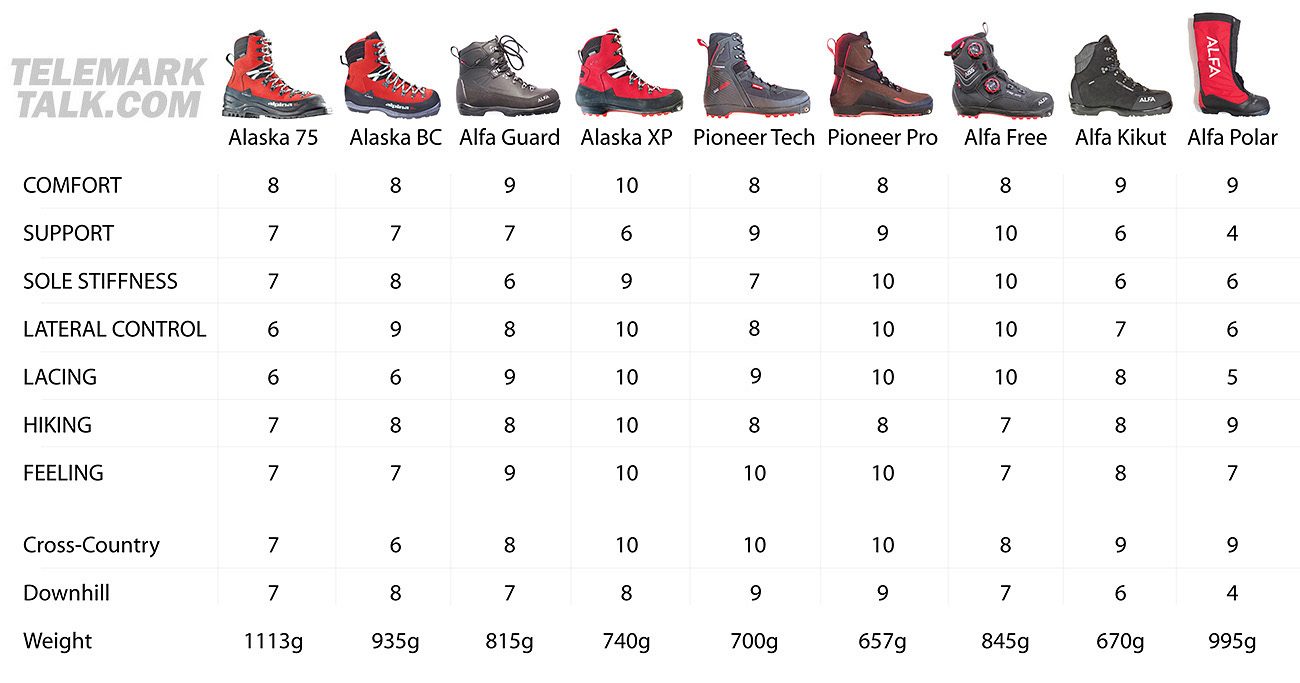 This is what I have been doing here. I haven't used any flexors on my 4 pairs of XP bindings for several weeks! The flexors are all stored in a box somewhere. I can't believe how great it feels, for both cross-country AND downhill. It's all a matter of technique, not flexors or cables.
FREEDOM! Nothing at the heels, nothing at the toes... NOTHING in the way for me please!
telerat

wrote:

↑

Mon Feb 14, 2022 8:56 am

Hmm, the Alpina Alaska XP is missing, while there is even a new black Alaska 75mm. The Pioneer is the only Xplore boot, while it has two NNN-BC siblings. There is a new series of 4 NNN-BC boots (Tourer) with one 75mm version, as well as a low 75mm xc-boot. It looks like a nice collection, but almost devoid of Xplore boots. I wonder what the reason is?
The reason is that the catalog posted was from some Europeen distributor, they select their own products. Here is the US version of the 2022-23 Alpina catalog below... (Oouuf! What a relief to see that my new all-time favorite boot is not retired yet...
)