I apologize in advance for the length of this article. The XPLORE is such a simple binding. And yet, there is so much to say about it. I really thought it would be just a trendy toy. But after giving it some time, it turned out the opposite of what I thought it would be. This was totally unexpected. A complete surprise. Also, please excuse if I repeat myself: this review was done over a period of 7 months.
Don't get fooled by the name. The new Alaska XP is NOT simply an XPLORE version of the old
orangees
. Quite the opposite. It's A LOT more than this, it's a totally different boot! A totally new boot in the Alpina family.
The Alaska we have here has not been updated with a few details to make it look more attractive or give the buyer a excuse to replace their boots. It has not just been upgraded with a new XPlore sole. Nope, the Alaska BC has been TOTALLY redesigned. And it's simply the finest XCD boot I have seen. I've been an early adopter of the old Alaskas, and while it was love at first sight, there has always been a few things that bothered me and my entire Alaska fleet. (Mostly the tongue and the lacing system.)
Remember several years ago, when I used to brag here how much I loved the old Alaska, and how it was THE most comfortable boot in the world? Well, the new XP's are even better, and even more comfortable than ever! The
new XP Springpin technology
is amazing. I am not going to go into details here, because honestly, the new boot design is much more important than the XPLORE sole itself. But it does offer a big improvement over lateral control, no doubt about it. It's amazing how a few millimeters can completely change the power of a boot.
Yes, it's easier than ever to get any ski on edge with the XPlore soles. And it's also easier to control and steer the ski. No matter how much I play and crush the soles with my hands, I can feel a different feel from the old boots. While the XP soles are much stiffer than the Alaska 75 ones, the stiffness is very similar to the Alaska BCs. But the thing here is that the flex point is slightly different. As you can see in the picture below, the flex point has been fine-tuned to allow an even more natural flexing, making the boot *potentially* (see further) easier to flatten the whole BOF flat on the ski. (Instead of flexing a tad more on the toes like on the previous Alaskas.) The flex is actually more complex according to Alpina: "
New shoes have more than one flex zone for better fitting and that necessary kick you need during long skiing.
"
The tongue guys. THE TONGUE! The tongue too has not simply been updated, but is totally new. No more fighting with the tongue! No more
training the tongue
for months and months! No more exotic oils treatments in order to make the tongue softer to try to forge it properly so it stays in place comfortably. WOW, just wow. The new synthetic tongue molds itself magically around your feet perfectly, without any training or break-in period. They feel like a 10yo fully trained tongue straight out of the box. BRILLIANT. AMAZING! Finally! "
The addition of the shaped tongue increases the comfort and fit and prevents lace bite.
"
The eyelets placement is totally new too (Now with only 6 eyelets instead of 8). They are WAY EASIER to lace, the bottom section of the boot can now be tighten very easily (Something that was almost impossible on the old ones). Same with the instep, it can be locked and super-tight the way it should be. I always struggled trying to lace the old Alaska. Not anymore! They are even easier to lace than the Alfa Guards! Woooooooaaaahhh!!!
Wait... What the...?
With the boots on, perfectly laced-up, you stand up and start walking around. And you instantly say "
Man, wait a second... what the hell is going on here?!?
". Because yes, there is something going on here. There is something different, they do not feel like the previous Alaskas. At first I thought it was magic. After all, they are magical boots. They are not yet on the market, they are still top secret, and I am one of the very few lucky skiers who got a pair for testing. It totally makes sense that the XCD Knights at Alpina in Slovenia put some magic into the boots to enchant me and put me under a spell. Yeah, but come on Johnny, you cannot talk about magic in a serious review, people already think you're completely nuts, this is not going to help you.
Keep in mind here that I was sent the new Alaska XP boots without any literature. No product description, no specs, nothing at all. I was only expecting a XPLORE version of the Alaska, nothing else. I was definitely not expecting magic at all. So I surrendered to science, and decided, just for fun, to put the new XP's on the scale. Holy ****. I could not believe it. I recalibrated and zeroed the scale a few times, sat for a few seconds and took a deep breath, but the scale was still indicating 740g. Yes,
740 grams
!!! At size 43, that is a 21.2% weight reduction over the previous model!!! One of the lightest XCD boot ever. (Not to mention the weight reduction of the XPlore bindings!)
The feeling is amazing. Amazing. I am not going to use different words and synonyms to make this piece of review more pleasant to the eye, the new boots are just
AMAZING
. This substantial weight reduction changes everything. It changes the whole feeling of the boot. Suddenly, by the time you start walking, you feel like being relieved of gravity. Like walking on the moon. Literally, it feels like walking on air. While still being in full control. The exact same feeling I had when I first tried the Alfa Guards.
Of course, the XP is obviously Alpina's answer to the ALFA Guard. It's no secret to anyone, the 725g Alfa Guards were a game changer for me when they came out a few years ago. I couldn't be happier to find that same feeling of complete freedom of movement with the new Alpina Alaska. The upper part of the Alaska XP boot is MUCH softer than both the Alaska 75 and BC. Just like the Alfa guard, making XC skiing a lot more comfortable. That means a bit less support for downhill, but on the other hand, as
I explained in detail in my Alfa Guard review
, it also *potentially* makes it easier to flatten the ball of foot on the ski, which means more downhill control.
On the snow Johnny?
On snow, it takes half a second to feel the leverage of the pins and their 70mm width. Cross-country style, they are mind-blowing. I was mostly excited about the downhill potential of the system, but I never, never expected they would make such a huge difference for cross-country! Whether classic or skating, groomers or powder, the Alaska XP gives the most amazing skiing experience ever. Perfect control, the skis are going perfectly straight, with a degree of freedom and agility you never experienced before. Their superlight weight, the perfect forward movement of the binding and the complete control is just unparalleled. Yes, I was really skeptic about it. I never thought it would be that good. Now the only thing I want is to jump back on the XPlore bindings and feel that new sensation again. Suddenly, I go faster, further, and I have a lot more fun doing cross-country ski. And the upper cuff being much softer, skiing on the flats in much smoother. The Alaska XP is really bringing back the FUN and that FREEDOM feeling out of cross-country skiing.
Okay! And on the downhill?
Yes, its true, I have a real crystal ball at home. I have always been very passionate about the future. I have been studying the future for decades. But another thing I have been studying very seriously is that tribe of skiers who call themselves "Telemark Skiers". They are great people, a very nice tribe actually. But some of them are very reluctant to change. Some of them just won't accept any form of progress. They will never accept to change their old ways for the sake of having more fun in the end, being pathetically narrow-minded about new ideas and stuck into their old vintage obsolete gear and their old-school double-planting techniques. So I can tell you that this is going to be THE MOST CRUCIAL thing about the future of the XPLORE. And I am talking here about what the common telemark skier will think of the flex of the XPlores soles.
We are all aware of the Pål Trygve Gamme saga about the ALFA XPLORE boots. And about Crister from Asnes mentioning "Flex" problems with ALFA boots from the beginning. I also heard about flex issues and complains on ALFA boots from other insiders too. Because it's true, the soles are PRETTY stiff. Nothing unexpected here, they are just as stiff as the Alaska BC. As stiff as your old heavy-duty, military or extreme 75mm boots. Now the thing is, the forward flex of the sole is indeed
ridiculously
stiff, to use telemark vocabulary. While the sole is quite stiff laterally, it takes a HUGE amount of force to crush the ball of foot flat on the ski. And that brings A LOT of change, a lot of questioning and some serious rethinking. Some concerns for certain people, some absolutely brilliant advancement for others.
It's pretty hard to know what the designers at Rottefella had in mind when they conceived those super stiff soles. (PLEASE note that this applies for all XPlore soles, no matter the boot model or manufacturers, because the sole itself is the same for all boots. ) There is no user manual out there yet telling us exactly how to ski those new XPlore soles. While I don't have the correct answer, I have been thinking about it for quite some time, and I narrowed it down to a few possibilities:
1- There is nothing wrong, the soles just need a break-in period
2- There is nothing wrong, we just need some time to get used to it
3- There is nothing wrong, we just need to use the harder flexor for downhill
4- There is nothing wrong, the XPlore system is so powerful that we do NOT need to press the ball of foot anymore.
A break-in period? Perhaps. Why not, all the boots have a break-in period. Maybe the XPlore soles change a lot over a short period of time. Too early for me to say.
Skiing with leather shoes requires a different technique than skiing with 4-buckle plastic boots. Skiing with NTN does require a different technique. Remember the old "Driving the cuff" campaign when NTN came out? That was the way to make the switch to NTN less drastic for most people. Same sport, telemark skiing. But the
complete opposite technique
of weighting down the ball of foot! The complete opposite approach. Thank God, there were influent people back then who pushed NTN, convincing skiers that this was the future despite their reluctance. And I think this might be equally true with the new XPLORE system. (Hey, nobody is using the ball of foot with NTN gear...)
Remember those super-stiff plastic NNN-BC boots in the 90s? Please tell me true, why did they disappear so quickly? Because they did require a slightly different technique. And because they did require a stiffer flexor to make the most out of it. But mostly, because there was nobody to promote them and show the world what could be done with them, and especially
how
to use them. The new XPlore "Hard" flexors are still not available, but I really believe they will make the sole much easier to flex for pure downhill skiing.
This XPLORE thing is SUPER-powerful. But I think it might require a few normal adjustments in our technique. Or as I said, perhaps the whole concept of the ball of foot is now obsolete with the XPlore? Perhaps we need to move in a totally new direction? What do you think? In any case, it's too early for me to tell. I only have a few hours on the XPlore system, in very bad snow conditions.
I really can't wait for next season to come out with the key of the mystery. I can't wait to solve that case, because I know it's going to unleash a million miles of downhill fun for everyone! And it might possibly turn the Alaska XP into my new all-time favorite XCD boot...
UPDATE: November 7, 2021
FWIW, I'm still totally in love with the Alaska XPs. I spent the summer starring at them. They are just mind-blowing. NO, they are not sturdy, extreme-class downhill boots. But the superlite Alaska XP boot + XP binding combination offers just the finest experience ever for Nordic skiing. Really. This is a unique feeling I never experienced with any other piece of gear.
In fact, although I have a whole fleet of boots lying all around, I have the feeling that I will probably use the Baby XPees exclusively every single day this season... Can't wait to try them in pure winter conditions... And figure out how to handle them on the downhill side...
UPDATE: November 30, 2021
After a few more days in a row on the XPLORE system, I think I can finally proclaim my verdict! Overall, my opinion is pretty much the same. I don't know about the Alpina gear yet, but the Alfa boots and the Rottefella bindings are simply *freaking* expensive. That is a fact. I guess it doesn't matter much because it's going to sell anyway. It's up to you to decide if it's worth it or not. But so far, if I forget the price tag, I personally think the XP is just the best cross-country and Nordic/touring binding ever. And with just a few simple tweaks, it could also be the best XCD binding ever too. Sorry if I repeat myself, this is just an extension (≈repetition) of my original review... Try to see it more like a
reiteration
instead...
To be fair and totally unbiased in my review, I compared
Alaskas
with
Alaskas
:
- Alpina Alaska
XP
(Soft flexors)
- Alpina Alaska
BC
(Soft flexors)
- Alpina Alaska
75
(No cables)
CROSS-COUNTRY:
Despite what has been said elsewhere, for me there is no way 75mm could come even close to the XPLORE! Never before my skis tracked so straight. Like, absolutely straight. I never had such control of my skis before. The width between the pins really makes a huge difference for everything XC. Especially for the trailing ski. Again, I was only expecting the XP to add more control downhill, I was never expecting such a new, amazing XC experience. What a wonderful, amazing surprise!
Add to this the SUPER-light weight of the new Alaska XP boots and their PERFECT lacing system, allowing a perfect, super tight fit. And the only words that come to my mind are once again "mind blowing". Really. It blows everything away. The new Alaska XP gives a sense of complete freedom like I never experienced before. Much better than NNN-BC too, for the same reasons. The Alaska XP instantly makes cross-country skiing WAY more fun than before!!! (And faster too!)
DOWNHILL:
Pretty much the same applies here. It has nothing to do with 75mm (NC). The century-old floppy obsolete duckbills are finally replaced by lateral metal pins. At freaking last! MUCH better control than 75mm, no matter if we're talking about turning, edging, lateral control or steering. Of course, skiers addicted to cables or plastic boots will not be able to fully appreciate the improvement here. But for those who enjoy their TotallyFree-heel skiing at full blast (cables = not free), you will really appreciate the difference and the power here over the old Nordic Norm. Yes, you WILL need to get used to the new XP sole at first. It definitely does not flex like the BC or 75 soles.
For most of the time, the new XP system is almost as good as NNN-BC for downhill. I am not saying better, because while the Baby Alaskas are A LOT better than the previous Alaskas, the boots are a little bit softer than the taller Alaska BC. Which is not a bad thing at all. But the potential for a more powerful downhill experience is there. I am sure Alpina will come up with a dedicated downhill leather boot at some point if there is a demand. But right now the new XPs are just perfect for all my XCD needs, even without the hard flexor!
I also have to admit that over the years, I got quite addicted to the NNN-BC rails, without even realizing it. Until I switched to XPLORE. I have to say that I find myself looking for them on the XP system, even after 5-6 days. But perhaps it's just because it's embedded in the ski department of my brain. Every single time I turn, I find myself saying to myself: "Oh yeah it's true, there's no rail on the XP!" I sure will need to have my memory get used to this! I will probably still use the BC version for downhill on 35+ degree slopes. But for everything else, the new Alaska XP is simply my new all-time favorite boot. (As you can see on my profile...
)
Seriously, better control, more performance and reduced weight can only translate to more fun.
Thank you SO MUCH Alpina for coming up with such a mind-blowing new product!
Thank you so much for such a new experience!
And thank you so much for turning everyday skiing into everyday awesomeness!

UPDATE: December, 2021
THE XPLORE JOURNAL
December 2, 2021. *TOTALLY* ADDICTED.
10th day on the XPLORE system. A few more important observations. After switching back and forth between XP and BC setups, the difference is even more significant, more obvious. First, as I said, kicking and gliding is really A LOT superior on the XP system. The massive effect of the width between the 2 springpins is even more pronounced when you switch between systems. The XP offers incredible control over 75mm and NNN-BC. It works beautifully and magically with the Fjellski class and even wider skis, where more lateral leverage is needed to keep the ski stable on the snow. And the most magical thing is that is also works wonderfully with skinnier XC skis, which are usually not very stable laterally on the snow. I am not talking about subtle, barely noticeable changes for the elitist here. I am talking about feeling quite sad when I got back on NNN-BC. That little extra fun-factor just wasn't there anymore. The exact, very same tour I just did with the XP system was now more boring on NNN-BC, more tiring, and the skis felt a lot less stable, slightly drifting at every step in a way I had never noticed before. I must confess that I am very, very impressed by the XP system and the Alaska XP boots. BLOWN AWAY, honestly. Blown away. In capital letters.
Another very important difference is the resistance in the forward flex. The XP soft flexor offers substantially LESS resistance than the NNN-BC soft flexor. And this is not just the flexors, it's also in the soles. The XP feels almost like a free-pivot binding until the it reach the end of its course. The sole of the XP boot almost doesn't flex at all. On the other hand, you instantly feel some resistance on NNN-BC from the start. And the NNN-BC sole start slowly flexing naturally almost as soon as the heel is raised. NOT the case with the XP sole and binding.
This is what has been raising A LOT of questioning for me since last April, hence the confusion in my original review about "
getting used to it
" and "
figuring it out
". The whole Ball-of-foot thing. It would be tempting to say that NNN-BC is better and more natural. Now this is where it gets interesting. Because despite the XP sole's stiffness and its semi-
freepivot
feel, the lateral control and edging power is much better than all other norms. And it sort of compensates for its own characteristics. So in the end, it offers a MUCH more natural and efficient experience for XC, but a quite similar experience for Telemark and downhill.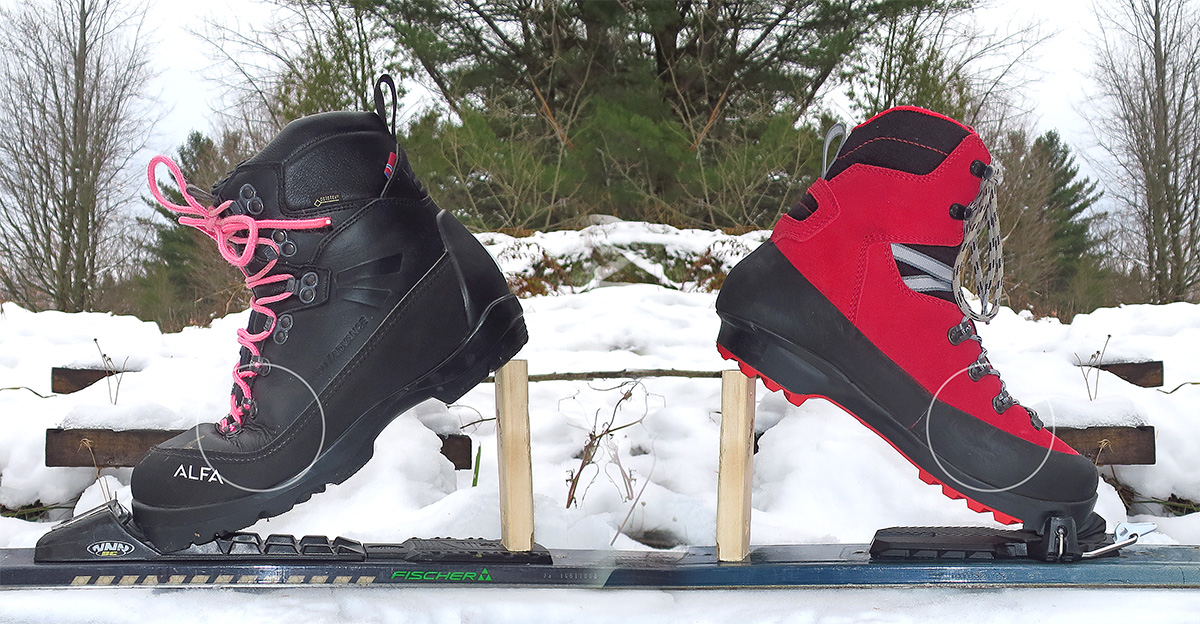 Back on NNN-BC, the experience was quite disappointing. Hey, we are talking about my favorite binding / boot combo here. Yes, for the first time, they felt less fun than before. I felt bound and tied to the binding, like restricted by some load. Like being handcuffed to the boots and bindings. My feet were not free, and I was not in complete control of the skis. Both NNN-BC boots and bindings felt quite restrictive (!!!). I felt like a slave of the equipment, compared to the liberty of the XPLORE. Even after taking the ALFA Guards for a mixed tour, I found myself wanting to get back in the Alaska XPs as soon as possible! The Guards did not feel as comfortable as they once did. Lacing them seemed not as smooth as before compared to the Alaska XP. The previous Alaskas felt heavy, their shoelaces almost impossible to tie. Boy, once again, this was totally unexpected! I just HAD TO get back on the XPLORE, as quick as possible! Quite a shocking experience for me, an hardcore advocate of the NNN-BC system.
This little thing is absolutely FASCINATING. I thought this was just a toy, just money-making. A way for Rottefella to capitalize on the already fading 2-pin craze. I was wrong. I am simply falling in love a little more every day, with both boots and bindings.
There is SO MUCH MORE magic in this little piece of engineering that what I had expected. Wow. Just WOW. I think I will have to start getting used to the fact that I might not be going back to NNN-BC or 75mm. I was not ready for this!!!
WARNING!!!

This boot and this little thingie are HIGHLY ADDICTIVE!!!
UPDATE: December 14, 2021
"A refreshed backcountry experience providing countless miles and endless smiles."
It's stupid, I never thought I would say that. But after skiing the new Alaska XPs, I can only totally agree with that promotional, "
emotional communication
" statement. In fact, this is pretty much how I would personally sum up my Alpina Alaska XPLORE experience:
A refreshed backcountry experience providing endless smiles
!
This is exactly what it is!
UPDATE: February 10, 2022
That brings A LOT of change, a lot of questioning and some serious rethinking. Some concerns for certain people, some absolutely brilliant advancement for others.

It's pretty hard to know what the designers at Rottefella had in mind when they conceived those super stiff soles. There is no user manual out there yet telling us exactly how to ski those new XPlore soles.
It all makes sense now. The flex pattern, the flex point, the sole, the stiffness. It's all brilliant! I guess it was too much progress in a short amount of time to fully grasp in the first place. (And not enough snow last spring to fully push it to the test!) Perhaps that was the reason why all the other reviewers out there couldn't see the HUGE improvement of the XP over older norms? You really have to try it to believe it. The whole XP experience is so nice, so smooth, so brilliant!
The only bad thing I have to say about it is the sliding button to remove the flexor. It's not just bad, it's REALLY bad. This definitely MUST be redesigned. It's impossible to slide with gloves on. Not only that, but even with your bare fingers in the comfort of your house, it's very hard to engage to remove the flexor.
FWIW, my final word is that the Alpina Alaska XP is just the finest nordic boot I have seen in 43 years of skiing.
UPDATE: February 15, 2022
For all of you chart junkies out there, here is one particularly relevant.
Taken from my review of the
ALFA FREE boot
, I think it's worth reposting here for future reference.
It seems quite simple at first sight, but there is actually A LOT of technical information packed in there. It took me quite some time to come up with all the details and to objectively analyze each boot, but I think it makes a great guide to evaluate what you need at a glance. I didn't add a "warmth" row because that would be hard to fairly compare and most of these boots have quite similar insulation. Lateral control = edging and steering power. Hiking = walking, boot packing, everything that doesn't imply actual skiing with the boot. And feeling is... Well, you know. It's the feeeeel man. The actual level of blissful sensations that run through your whole body when you go downhill. The actual level of dopamine and adrenaline running in your blood and up to your brain. A number indicating how freely the telemark quintessence embedded in every snowflake is able to run through your boots and be transferred from the skis directly to your spine. In other words, it means the essence of telemark... The spirit of telemark.